Ever wanted to edit any patches? Or maybe wanted to make your own patches? Well, or to assign different bats to different players, edit their abilities, bowling speed, squads, statistics, birthdays and even more! You can create your player, then add yourself in squad, assign a bat for you, and can do much more stuff with EA SPORTS CRICKET 07 PLAYER EDITOR ! Here's a small tutorial of the Player Editor07.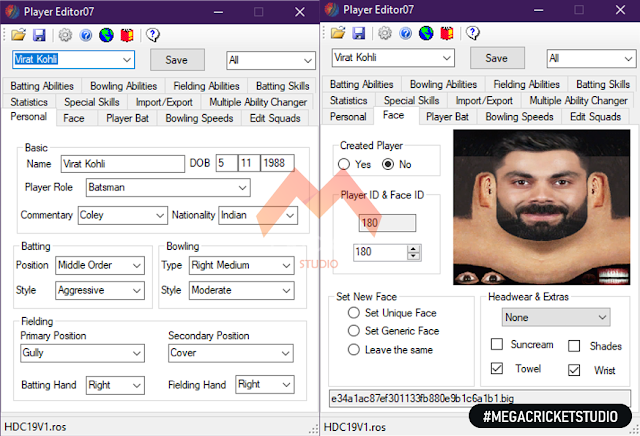 Pretty cool, eh? So what are you waiting for? Probably tutorials right? First, let's see the FAQ posted by the creator, Barmyarmy:
Where should I put the exe?
Anywhere you like provided the xml file is in the same directory. The editor will tell you if it's not

I get this error: "PlayerEditor07.exe Application Error " The application failed to initialize properly (0xc0000135) Click OK to terminate the application"
You will need the .net 2.0 Framework for this editor to run – Get it here

I've entered the paths wrong/want to change them
Edit the bats.xml file using a program like xml notepad and clear the fields for C07 path and ImpBigPath.

How do I make/find the roster file?
Rosters are made by saving roster in My cricket;load/save. They are located in X:Documents and SettingsUser nameMy DocumentsEA SPORTS(TM) Cricket 07
Why can't PS2 users see bat/face previews?
The bat and face files are in different formats which no-one has been able to work out.

Obviously you get paid to make editors so I should constantly bug you for updates, point out all the flaws and demand new features.
I do this in my spare time. I'm happy to recieve feedback and bug reports but if I see any posts with "urgent, fix this now, make this" in I will be deleting them and probably negative repping you into the bargain.

Who else should I thank for this?
A fuller list is in the readme but I'd like to mention duded64 and adthomp for their excellent work

"An attempt was made to load a program in an incorrect format"
This is a 64 bit issue and I can't fix it at present. In your bats.xml file set previews to false and the editor will run.

Change Log:
V6.0.2.0 – 12th November 2011 – Support For HD bat textures added. Stability Fix. Speed Boost.

V6.0.1.0 – 21th November 2011 – Support For HD bat textures added.

V6.0.0.0 – 9th November 2011 – Windows 7 Support Added. 64 bit Support Added. Automatic File Name Generator system added, integerated in Shortuct Assigning.

V5.0.0.0 – 4th June 2007 – New release with faces overhauled to allow for suncream or not. Vista compatible

v4.2.2.1 – 26th January 2007 – Fixed import/export bug and added tmt support

v4.2.1.1 – 21th December 2006 – OD display bug fixed, squads added for PS2 and news bats.xml

v4.2.0.2 – 10th December 2006 – Code conversion from c2k5 completed and first general release of Player Editor07

v3.0.1.2 – 23th November 2006 – Final C2k5 Player Editor release
SOME IMPORTANT NOTES TO READS
Start up
The editor will default to the personal information tab

The tool bar at the top contains buttons to open a new file, save file, change settings, view the readme, check for updates and view the about information

The combobox on the left contains the name of the player currently being edited

The combobox on the right sets the nationality filter for the editor. The derfault is for it to show all players with a nationality set. There is also a show all players option which will show uncreated players and players set with nationality to none

Settings that can be changed are to switch between overs and balls and to enable/disable previews (to speed the editor up)
Faces
There are 75 generic faces in C07 and around 60 unique ones. This can be expanded by patchmakers to provide for more unique ones. Every player has either a unique or generic face assigned to them

To find out a players face filename and whether he has a unique face or not click on the 'Face' tab

If a players face ID is the same as his player ID then he has a unique face. otherwise he has a generic one

The editor can be used to set generic faces for created players and unique faces for players who don't have them
Assigning generic faces
select the player

check the 'Set Generic Face' box in the face tab

Select 'White', 'Asian', or 'Dark' skin on the box that appears

Click the save button
Assigning unique faces
Download A Face File And Extract it

*If You Want Sunscream too, Then Download A Sunscream Face File And Extract it

In Player-Editor, Select Face And Appearance select the player check the 'Set Unique Face' box

Select 'White', 'Asian', or 'Dark' skin on the box that appears Check Sunscream if you want it too.

Click on the Shortcut Assign You will be prompted to locate the normal face you downloaded

You will be prompted to locate the sunscream face you downloaded

The editor will write the correct code to the XML file

You will see a may face appear but this is actually a unique face.
Changing stats
Open the stats tab

Change test/odi/od or FC one at a time and hit save

Not out high scores should have an " * "' after them

In BBI wickets comes before runs

Average, SR and Economy are read only as they are calculated from the other stats
Bat and appearance
The list of bats can be edited by changing the xml file
The fsh filename that appears is the file containing that bat
Personal/Abilites/Skills
Should all be editable by changing and clicking save
Use the slider to set the value in Abilities
Import/Export Player
Select the player in the list and click the export button. Choose a filename

To import, select the player you wish to import over and click the import button. Select the player wish to copy over and click ok
Import/Export Team
You can do this in the Squad tab

If a loaded team contains a player not in the roster, you should remove him from the team before playing a game otherwise the team will not load properly
Multiple Abilities
This changes the abilities of every player in the roster so be careful with it

You have a choice to set to, increase by, decrease by or scale by a number

There is no undoing this
More tools are available for EA Sports Cricket 07
Download EA Sports Cricket 07